Product Description
Pre-Order prices
| | |
| --- | --- |
| First 0-199 units: | $135 standalone – $100 in Combo with HDfury device (50$ with Maestro TX/RX) |
| 200-399 units: | $145 standalone – $100 in Combo with HDfury device (50$ with Maestro TX/RX) |
| 400-799 units: | $155 standalone – $100 in Combo with HDfury device (50$ with Maestro TX/RX) |
| 800+ units: | $165 – Stretch Goal! Dev Team will attempt to add new super powers! |
| After Pre-Order: | $179 or $199 if Dev Team succeed in adding new super powers! |
Key Features
Alerts
Stretch Goal!
If we hit 800 pre-orders, Arcana might get these fresh new super powers before or right after shipping:
– Ability to forward CEC volume control from source to SONOS Arc
– Ability to forward CEC volume control from TV to SONOS Arc
– Ability to retrieve ARC from TV ARC input and forward it to SONOS Arc
Our Dev Team has a roadmap and a specific approach to make this a reality; there is no guarantee that it will work, but the outlook is VERY promising.
One full month of development work is needed to get this working. Our Dev Team will begin to develop these super powers if we can reach 800 pre-ordered units in total before units start shipping.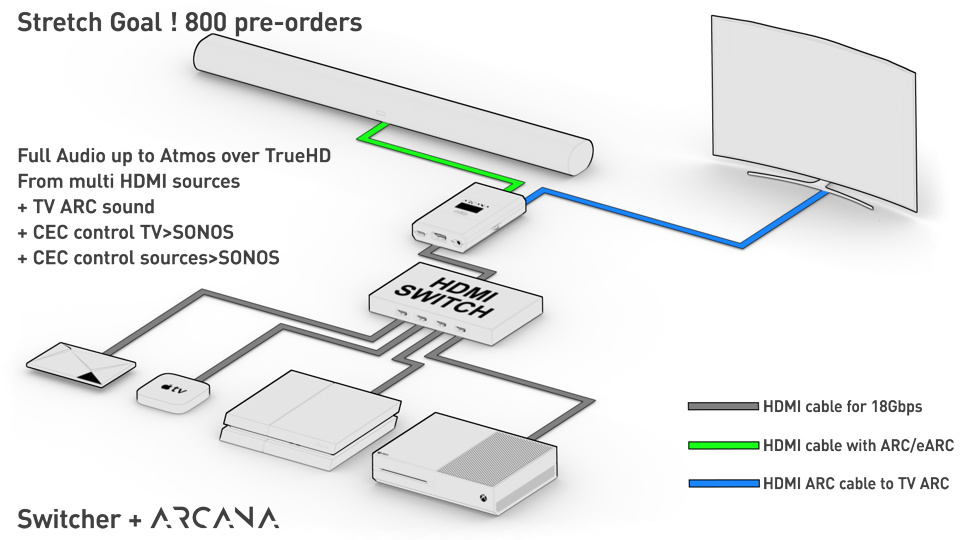 Full Audio up to Atmos/TrueHD from any HDMI source/output to SONOS Arc or any eARC sound system


Solve SONOS Arc lip sync issue when using external HDMI sources connected to eARC TV


Works for HDMI source to eARC sound system or HDMI source to ARC sound system


CEC control from TV at output to source at input (see Stretch Goal for other option)


HDMI 2.0b Full Audio/Video passthrough up to 18Gbps/600MHz (SDR/HDR10/DV/LLDV)


Allow DV content playback from LLDV capable source on any HDR10 display for improved picture quality


HDMI2.0b Full Audio/Video output has an optional downscaler for improved picture quality on 1080p TV


Allow HDCP 2.2 > 1.4 Conversion


Perform Chroma, Color space and Color depth modification if needed


Increase or decrease nits value of HDR metadata in real-time during HDR playback


Live signal info and details on OSD and OLED


Rotary switch for OLED menu navigation


USB type C (for power) and USB type A female (for USB stick update)


RS232 jack connector (for integration and control, not needed for average user)
Information
World First eARC HDMI2.1 adapter!
Arcana allows ANY HDMI source audio to ANY ARC sound system and ANY HDMI source FULL AUDIO to ANY eARC sound system for up to Dolby Atmos, Dolby TrueHD, Dolby MAT Atmos, DTS-X, DTS-HD Master Audio and older formats.
Production of the smartest converter solution for interoperability between any HDMI sources and eARC or ARC sound systems has now started.
Hardware-wise, Arcana features 1 HDMI input, 1 HDMI output with scaling option, 1 eARC output, USB type A for USB stick update, USB type C for power, RS232, OLED display and a rotary/wheel switch on the side allowing to navigate/select and perform changes in the device system menu. Arcana input is capable of 4K HDR/HLG/DV/LLDV/HDR10+ up to 18Gbps for video and support any sound format in existence today, HDMI video output is capable of outputting 18Gbps or downscaling 4K/UHD to 2K/FHD and support all sound formats as well.
Software-wise, EDID management ensures the best possible mixing of TV video capabilities and SONOS Arc (or other) audio capabilities at all times. HDCP conversion is possible in any way and the device can downscale and perform signal operations such as Chroma/Color depth or Color space.
Arcana also allows playback of DV content from LLDV capable source to any HDR10 display and can increase or decrease HDR metadata nits value in real time!
All signal information is visible at first sight via OLED or On Screen Display.
Initial proof of concept video: Open in new browser tab
More demo videos, this time using Vertex2 audio out > Arcana concept > Sonos Arc.
1. Mat Atmos from ATV4K via Vertex2 Audio Out > Arcana concept > Sonos Arc: Open in new browser tab
2. ATV4K Netflix Atmos: Open in new browser tab
3. Switching on-the-fly to LG C9 streaming app Netflix Atmos movie: Open in new browser tab
Proto board demo video coming soon !
Technical specs
| | |
| --- | --- |
| HDMI revision: | HDMI 2.0b (Level A) 600Mcsc – 18Gbps |
| Arcana Support: | 600MHz/18Gbps HDR, HDR10+, HLG, DV & LLDV, eARC, ALLM, IMAX |
| Max Resolution: | 4K60 4:4:4 8b, 4K60 4:2:2 12b, 4K120 4:2:0 8b or 8K30 4:2:0 8b |
| TOTAL I/O: | 1 HDMI In, 1 HDMI Out, 1 HDMI eARC Out, 1 RS232, 1 USB-A (update), 1 USB-C (power) |
| Pass & Downscale port: | UHD 2160p & 4K/DCI to FHD 1080p & 2K/DCI |
| Full Audio eARC port: | Full Audio up to Atmos over TrueHD from HDMI source at input to eARC sound system such as SONOS Arc |
| Signal Conversion: | Resolution, Chroma Subsampling, Color Space, Color Depth, HDCP |
| HDCP Conversion: | Any HDCP to any HDCP with CST1 support |
| Operating Modes: | 18Gbps Scaler & Splitter with CEC, eARC, ARC and EDID management |
| Special Modes: | DV/LLDV to HDR10 display, Boost HDR nits value, Translate HLG>HDR, HDMI Doctor |
| EDID Modes: | TV only, TV video + SONOS audio, SONOS only, optional LLDV datablock for all modes |
| Control Modes: | OLED and rotary switch with click and push buttons, RS232 |
| On Screen Display: | ON/OFF/timer with choice of text color |
| OLED: | 1″ Diagonal, 128×64, 2 colors |
| Arcana Size: | 3.9″L x 2.3″W x 0.8″H – in CM: 10 x 6 x 2.2 |
| Arcana Weight: | 120g – 0.26 LBS |
| Input Lag: | <1ms (nanoseconds count) |
| Other info: | 3D Support, CEC Pass Through, DSD, eARC (HDMI2.1) |