Rocking the AV scene since 16 Years!
From world's acclaimed Digital to Analog converters and popular EDID solutions to HDR toolbox, HDCP converter and award winning UHD scaler, the last 16 years have truly been amazing.
We are proud to release three new and furiously innovative AV devices. Arcana 2 is the successor of Arcana, popular among SONOS Arc & Beam2 owners, now compatible with any eARC, ARC or HDMI input sound system. VRRoom is the full audio extractor for VRR/FRL signals. Dr.HDMI 8K is a HDMI 2.1 EDID manager with an integrated webserver.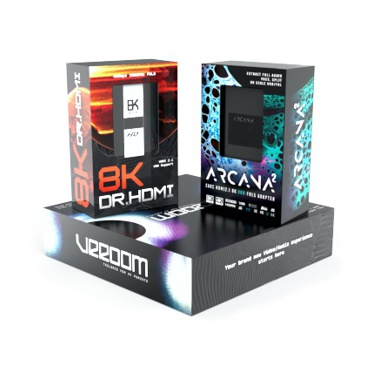 What they can all do for you!
First and sole in the world to offer a HDMI audio output that can extract full audio from ARC/eARC and HDMI sources and forward it to any AVR input or any ARC/eARC sound system.
Setup info always at sight and under control via OLED, On-Screen-Display, InfraRed, RS232, IP and Webserver (Mac/Win/Linux/Android/iOS).
Support all HDMI devices Audio formats, Video resolutions, HDCP revisions and HDR/DV modes in existence and make them play perfectly together.
Boost Nits value, translate HLG>HDR, replace metadata, scale, convert, disable, inform, modify for workflow, calibration or pleasure.

1 IN / 3 OUT Full Audio Extractor
Arcana 2 can passthru VRR/FRL signals while extracting full audio to feed any ARC/eARC or HDMI input sound system. It has built-in scaler, OSD and OLED display as well as the ability to allow DV on any HDR display and adjustable Nits value for HDR content.
4 IN / 4 OUT VRR Central
Switcher, Splitter or Matrix with scaling ability and full audio extraction to ANY sound system while playing any HDMI signals in existence. VRROOM offers IR, RS232, Webserver, iOS/Android APP, OLED, OSD, Relay port and advanced CEC features.

HDMI 2.1 EDID Manager with Webserver
With OLED and Webserver, managing EDID for HDMI 2.1 devices has never been that easy and convenient ! Dr.HDMI 8K carries same EDID features than the most advanced VRROOM device.