Product Description
Information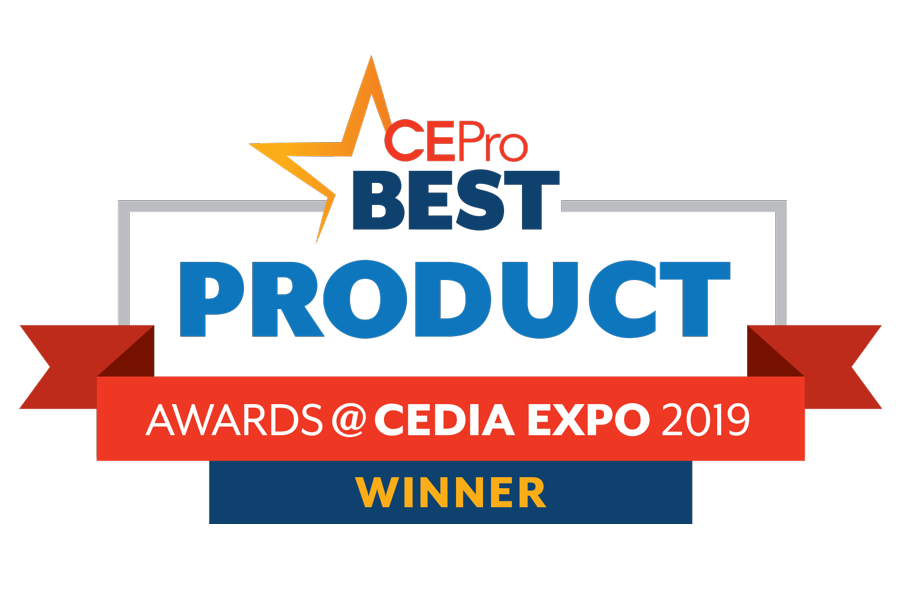 After having released the world first and features rich 600MHz splitter in 2015 with
Integral
and what stands today as the world best and award winning pocket sized splitter/scaler design with
Vertex
in 2017.
We are proud to announce the availability of Maestro, another masterpiece of work from our dev team, build to disrupt and revolutionize the HDbaseT segment of the AV World.
[UPDATE 12-SEP-19] Maestro just won CEDIA 2019 Best Product Award!

4K HDR 18Gbps/600MHz transmission via Ethernet cable (HDBaseT) have never been so powerful.

Hardware-wise, you have the Maestro TX (Central) featuring 4 HDMI inputs, 1 HDMI video output with scaling option and 1 dedicated HDMI full audio output at 720p or 1080p, LAN Control, HDbaseT output, RS232, L/R stereo or Optical 5.1 output, IR TX, IR RX, IR sensor, IR window, OLED display and 4 buttons on the side allowing to enter/exit and perform change in the device system menu.
On the other end, the Maestro RX device self-powered by the TX-Central is featuring HDbaseT input, 2 LAN port to share Internet connection with game console, TV or media player, 2 HDMI outputs with scaling capabilities, RS232, L/R stereo or Optical 5.1 output, SPDIF input, IR sensor, IR TX, OLED display and 4 buttons on the side to enter/exit system menu and perform changes in settings.
All inputs are capable of 4K HDR/HLG/DV/HDR10+ up to 18Gbps for video and support any sound format in existence today, all video outputs are capable of outputting 18Gbps and all sound formats as well whether they are on the TX-Central or the RX one.
Both units are always running in a Matrix/Scaler mode ensuring your setup remains optimized at its best capabilities.
Both Maestro TX Central and RX Unit are providing real time signal info on their respective OLED screens.
OLED are also used to display system menu and allow navigation via push buttons on each unit.
Software-wise, Maestro is the first device to provide you full control via the embedded and brand new HDfury webserver ! The need of a dedicated computer with special driver to run configuration software or update is now a thing of the past !
You can use any web browser based device such as any computer or smartphone to access, control and update Maestro TX Central and Maestro RX (each one have its own webserver), the process is as easy as visiting a web page.
We went further than anything we ever made and full filled Maestro with revisited and improved HDR management feature. We also added some new features never seen before such as TMDS switching for all inputs which allow to autoswitch sources such as ATV4K, X1X or Shield that no other switch on the market are able to autoswitch.
[16-JAN-2019] World First eARC HDMI2.1 breakthrough: Maestro TX now support ARC and eARC sound extraction from TV for up to Atmos high bit rate over TrueHD forwarded to any AVR input via Maestro TX HDMI audio output (ARC-Key feature) !
All HDfury legacy features remain present, each input EDID can be set individually from a list of 100 EDID, HDCP conversion, Scaling and signal operations such as Chroma/Color depth/Color space, PJ&Display macro, Infoframes modes, CEC command, ARC, HTPC mode, special modes, sound extraction and more.
All setup informations are visible at first sight via OLED, On Screen Display or Webserver.
Maestro is the HDbaseT smart solution and converter for interoperability between any HDMI revision equipment, for content creators, calibrators, streamers, digital entertainment centers, UHDTV retail, show sites, data centers, schools, conference or home cinema and much more.
You can purchase and use the Maestro Central alone if you need 4 inputs + 4K HDR/HLG/HDR10+ or DV passthru and Full HDMI audio extraction to feed older AVR at 720p or 1080p while still enjoying unrestricted 4K on your main display.
Technical specs
HDMI revision:
HDMI 2.0b (Level A) 600Mcsc – 18Gbps
TX Support:
600MHz/18Gbps HDR, HDR10+, HLG, DV & LLDV, eARC, ALLM, IMAX
RX Support:
600MHz/18Gbps HDR, HDR10+, HLG & LLDV – 300MHz/10.2Gbps DV, ARC
Max Resolution:
4K60 4:4:4 8b, 4K60 4:2:2 12b, 4K120 4:2:0 8b or 8K30 4:2:0 8b
TOTAL I/O:
4 HDMI In, 4 HDMI Out, 5 RJ45, 5 IR, 2 RS232, SPDIF In, 2 Analog Jack & Optical Out.
TX I/O:
4 HDMI In, 2 HDMI Out, 2 RJ45, 3 IR (Sensor, TX, RX), RS232, Analog Jack & Optical Out.
RX I/O:
2 HDMI Out, 3 RJ45, 2 IR (Sensor, TX), RS232, SPDIF In, Analog Jack & Optical Out.
Upscale port:
FHD 1080p & 2K to UHD 2160p & 4K/DCI on TX/RX
Downscale port:
UHD 2160p & 4K/DCI to FHD 1080p & 2K on RX
Full Audio port:
Full HDMI Audio extraction via 720p/1080p self generated stream to feed any AVR on TX
TMDS Switching:
Autoswitch support for ATV4K, X1X and others sources continuously sending +5V
Signal Conversion:
Resolution, Chroma Subsampling, Color Space, Color Depth, HDCP
HDCP Conversion:
Any HDCP to any HDCP with CST1 support
Operating Modes:
18Gbps Matrix, Scaler, Splitter & Switcher with CEC, eARC, ARC and EDID management
Special Modes:
CEC Command, HTPC, Disable or replace HDR/HLG, HDMI Doctor, RS232 Macro.
EDID Modes:
10 EDID Flags, 5 EDID Algo, 100 EDID Banks (10 custom)
Infoframe Modes:
Capture, edit, create, block or replace HDR/HLG metadata, AVI & VSIF.
Read SPD, Audio, HDMI Vendor, HDMI Forum
Control Modes:
New HDfury Webserver, IR, RS232 for Linux/MAC/Win or push buttons
HDbaseT Length:
150M (500ft) on up to 1080P 8b, 100M (328ft) on 1080P 12b (Cat6a), Up to 70m (230ft) on 4K60 4:4:4 HDR (Cat6a)
LAN Extender:
2 Extra RJ45 ports on RX to extend your LAN to your TVs, sources, game consoles..
On Screen Display:
Editable with custom text and mask. (cover TV channel logo)
TX Oled:
3.12″ Diagonal, 256×64, 16 blue colors
RX Oled:
1″ Diagonal, 128×64, 2 colors
TX Dimension:
4.5″L x 7.3″W x 0.9″H – in CM: 11.5 x 18.5 x 2.4
RX Dimension:
4.3″L x 5.5″W x 0.9″H – in CM: 11 x 14 x 2.4
TX Weight:
520g – 1.15 LBS
RX Weight:
410g – 0.9 LBS
Input Lag:
<1ms (nanoseconds count)
Other info:
3D Support, CEC Pass Through, DSD, eARC (HDMI2.1)